Táto udalosť už prebehla.
DNBD Night #4 w/ The Martens 2020
8. augusta 2020 @ 22:00

-

9. augusta 2020 @ 5:00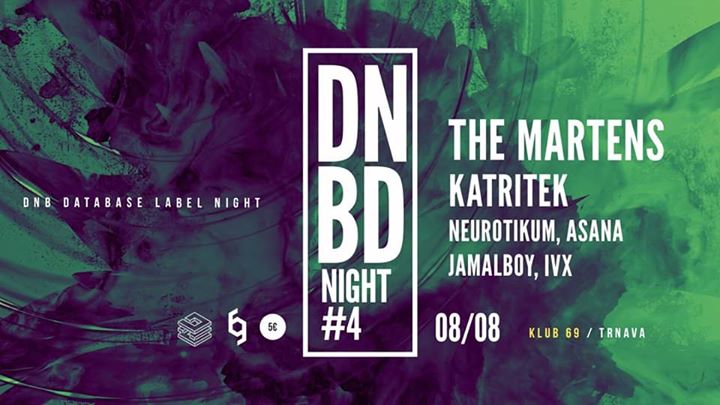 After a nearly year of waiting, we have prepared for you the fourth volume of our label night. Serving as a little celebration party for the release of our #slovakdnb compilation, we invited The Martens, Katritek, Neurotikum, and our label head Asana.
Be prepared to enjoy a night full of bombs, with The Martens also presenting their new release, that dropped on "Neurofunk, what else?". Katritek together with Neurotikum will present all their new material and Asana has prepared a lot of dubplates and non-released material. You can't miss this!
Lineup:
// The Martens //
Neurofunk, what else?, DNB Database, Drumatch
// Katritek //
DNB Database
// Neurotikum //
DNB Database, DarkSide Records
// Asana //
DNB Database Label Head
// Jamalboy //
DNB Database, Ragga Bombs
// IVX //
BassWaves
Please guys, be safe when enjoying this party. Try to have as little contact with people you do not know, use disinfectant often, and do not go here if you are feeling ill.
+ top-notch audio and visual effects
+ huge terrace outside for smoking & drinking
+ parking just outside the club
+ bar has a reasonable price and good beer on the pipe
Entry: 5€
Zmena programu vyhradená. Uvedené údaje sú len informačné.
Stránka Rýchle.sk nie je organizátorom podujatí.
Obrázky podujatí môžu podliehať autorským právam.