Táto udalosť už prebehla.
HACKATHON: Code against hate 2020
25. septembra 2020 @ 18:00

-

27. septembra 2020 @ 18:00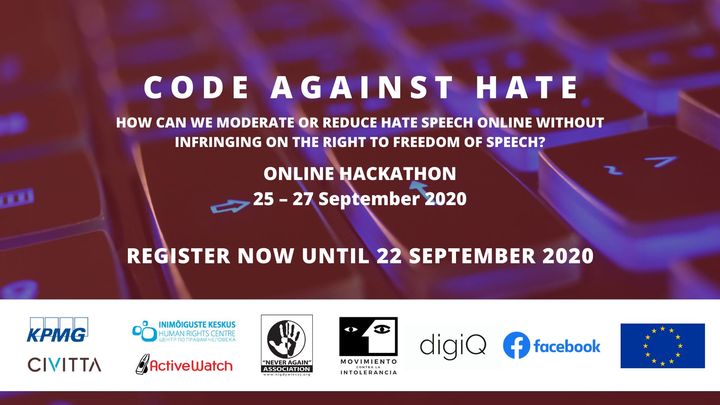 CODE AGAINST HATE
👩‍💻 ONLINE HACKATHON 👨‍💻
REGISTER AT http://codeagainsthate.eu/ AND FIGHT HATRED ONLINE!
Register to an online hackathon, help change the online world and become a part of the EU project Op:Code.
Registration is for free! Anyone who is 18 or over can register. As an individual or as a part of a team. Registration is open until 22 September 2020.
➡️ For more information visit website www.codeagainsthate.eu.
Public communicators, influencers and popular brands are targeted with online hate speech on a daily basis, particularly on Facebook and Twitter, when creating content. Journalists also experience this on the websites that host their articles. The amount of user generated comments on these platforms is huge and identifying hate speech manually has become such a time-consuming task that most public communicators feel discouraged to deal with it.
How can public communicators quickly identify, sort and efficiently moderate hate speech appearing on their posts and profiles❓
What can be done to minimize the amount of hate speech comments appearing on their profiles, pages and websites without infringing on the right of freedom of speech❓
How can we moderate or reduce hate speech online and at the same time respect the freedom of speech❓
Help us find the answers for these questions and build a solution which will change the online world! 🌐
Zmena programu vyhradená. Uvedené údaje sú len informačné.
Stránka Rýchle.sk nie je organizátorom podujatí.
Obrázky podujatí môžu podliehať autorským právam.