Táto udalosť už prebehla.
Stretch Leadership Conference 2020 Online
2. decembra 2020 @ 14:00

-

5. decembra 2020 @ 19:00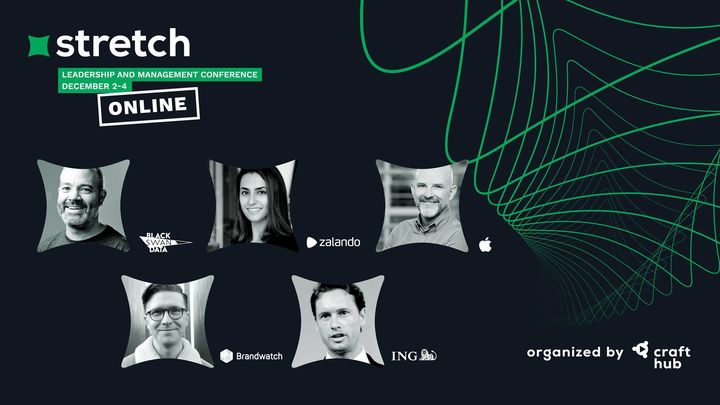 In 2020 winter, Stretch Leadership conference goes Online! Join beween December 2-3-4 to get a toolset for today's leadership challenges, prepare for the future, and learn to manage the change.
WHAT YOU CAN EXPECT FROM STRETCH:
– A toolset for today's leadership challenges, a guide for managing the change
– World-class speakers, exciting real stories and lessons learned
– Keynotes & Talks, Workhops, Discussions on 3 days' afternoon
– International community for hundreds of leaders, managers
– Hands-on solutions, ideas to make your company or team better
– New trends and opportunities
3 DAYS – 3 TOPICS
DAY 1 – Today's leadership challenges: Taking on the reality of today, and giving a toolset for leaders that allow them to make an immediate, positive impact. We discuss topics that organizations can use immediately, reflecting on current challenges, related to COVID.
DAY 2 – Explore the future of organizations: "You might say I'm a dreamer…" Setting the stage for the future and exploring how organizations will evolve the coming years, and decade, for the better.
DAY 3 – Managing change: One thing that will stay with us for the next year or two is rapid change. This day connects Day 1 and Day 2, touching on topics about how organizations can start making experiments in moving towards the future.
SPEAKERS LINEUP INCLUDE:
– Michael Lopp, Apple
– Shery Brauner, Zalando SE
– Otti Vogt, ING
– Mack Overall, Black Swan Data
– James Stanier,Brandwatch
– check the website for more…
RECOMMENDED FOR:
Leaders, Managers, CxOs, Tech leads, Product managers and else
Meet and network with 100s of leaders from all over the world
Check out the full line-up and get your ticket now at http://www.stretchcon.com/2020-online/
Zmena programu vyhradená. Uvedené údaje sú len informačné.
Stránka Rýchle.sk nie je organizátorom podujatí.
Obrázky podujatí môžu podliehať autorským právam.