Táto udalosť už prebehla.
Cybersec Global 2020 #online
28. septembra 2020 @ 9:00

-

30. septembra 2020 @ 16:00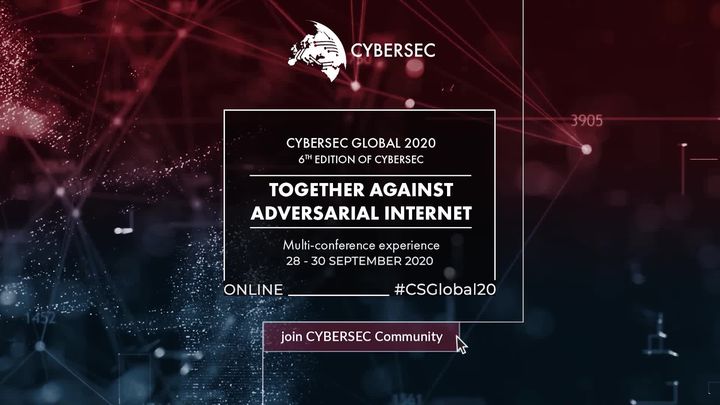 Are you ready for this year's exceptional CYBERSEC conference? COVID-19 pandemic posed a great challenge to all of us, but also surprisingly gave us a unique chance to gather experts and professionals from all over the world. Online formula enables each of you to become a part of our worldwide cybersec community.
Register here: https://csglobal20.eu/register/
CYBERSEC Global 2020 connects us in our fight #Together Against Adversarial Internet. Current world digitalisation surely facilitates our lives, but it has to be remembered that the Internet has its dark side. The adversarial use of the Internet affects all of us, not only on private level, but also a nation one. Together with these malicious acts comes the necessity to strengthen our cybersecurity.
This is where #CSGlobal20 has its role. Together with our prominent speakers, cybersec professionals, worldwide experts and each of you – the participants, we will discuss the options to combat the adversity of the Internet. During our four streams – STATE, BUSINESS, DEFENCE and FUTURE – variety of cybersecurity issues will be undertaken. Topics ranging from privacy and surveillance to artificial intelligence and digital economy, from disinformation to information warfare, actions to be taken on individual level and those on international one. More info about streams: https://cybersecforum.eu/streams/ This and much more is waiting for you at #CSGlobal20 on 28-30 September. Follow the event and our social media to stay abreast.
Visit our website: https://cybersecforum.eu/
Please note that in order to take part in CYBERSEC each participant has to be registered. Do not hesitate and register now: https://csglobal20.eu/register/. Join us in building our cybersec community and help us secure the digital future.
Stay tuned and we hope to connect with you at our global CYBERSEC conference! Don't miss this unique opportunity of binge-conferencing experience!
Zmena programu vyhradená. Uvedené údaje sú len informačné.
Stránka Rýchle.sk nie je organizátorom podujatí.
Obrázky podujatí môžu podliehať autorským právam.