Táto udalosť už prebehla.
PostgreSQL Meetup Bratislava 2020
27. mája 2020 @ 18:00

-

19:30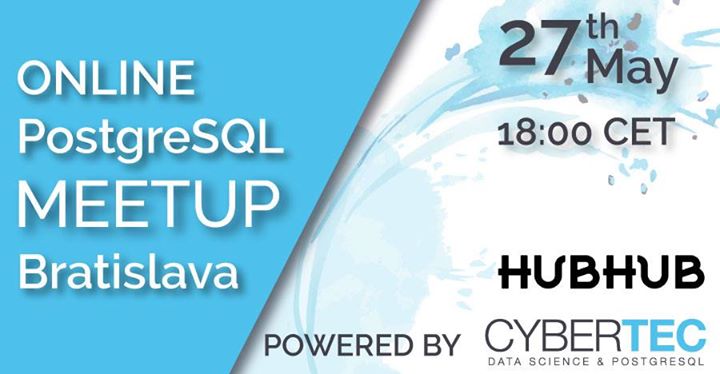 Hello everyone, we as CYBERTEC – Data Science & PostgreSQL are very glad to invite you to our 1st online PostgreSQL Meetup Bratislava prepared in association with HubHub!
Be sure about gaining the exciting storytelling concerning PostgreSQL from our amazing speakers! ?
The first speaker will be Hans-Jürgen Schönig, CEO of CYBERTEC – Data Science & PostgreSQL, author of plenty various books about PostgreSQL and investigator of professional PostgreSQL business since 2000.
Hans-Jürgen Schönig prepared for us a fascinating speech on "PostgreSQL security unleashed", the hottest nowadays topic on cybersecurity in RDBMs.?
The second speaker is Ilya Kosmodemiansky a CEO and co-founder at Data Egret, a consultancy specializing in PostgreSQL migration, maintenance and support. Ilya has a broad experience working with PostgreSQL as consultant, architect and administrator. His main focus is database performance and optimization. He sees the mission of PostgreSQL in substituting the commercial databases in high-performance mission-critical applications.
His interests are promoting PostgreSQL as an enterprise-ready database, distributed transaction processing, data integration.
Ilya Kosmodemiansky will hold his speech about "Worst Database Practices" which is of great interest not only for Postgres professionals and beginners, but for people working with other RDBMs.?‍?
All the topics will be in English.??
Zoom link for event: https://us02web.zoom.us/j/81438660092
You definitely don't want to miss this – so just save the date, sit back and enjoy!
No matter whether you are from Postgres community or no – everyone is welcome! ?
Zmena programu vyhradená. Uvedené údaje sú len informačné.
Stránka Rýchle.sk nie je organizátorom podujatí.
Obrázky podujatí môžu podliehať autorským právam.