Táto udalosť už prebehla.
NgBeer Brno vol. 9 with special guest Michael Hladky 2021
7. júna 2021 @ 18:30

-

20:30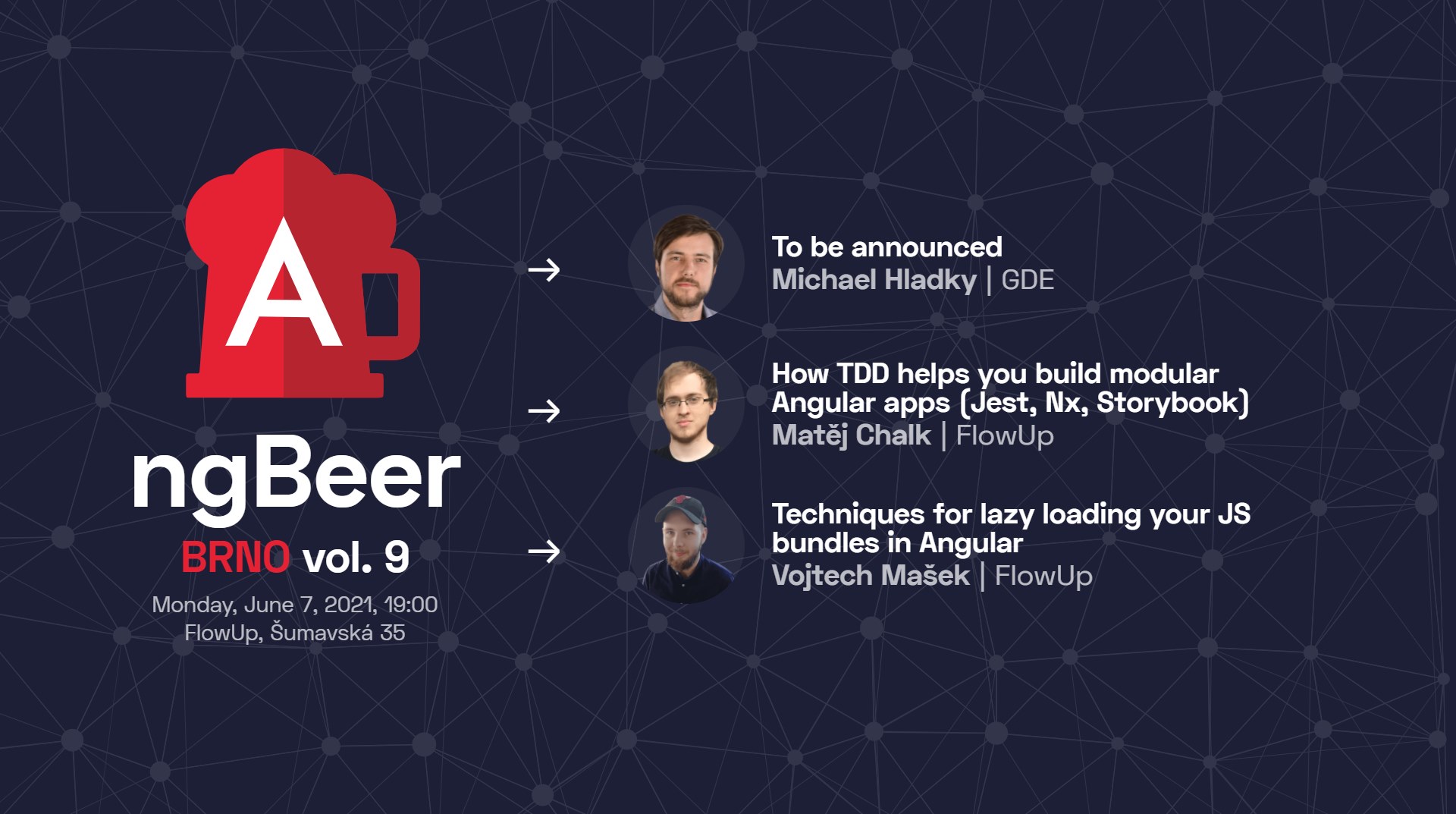 Dear Angular enthusiasts,
after a looong covid break, we'd finally like to invite you to another NgBeer Brno!
It's quite a last-minute event announcement this time – but for a good reason. We're happy to tell you that our invitation was accepted by a very special guest – Michael Hladky, a Google Developer Expert for Angular.
About NgBeer:
NgBeer is a regular gathering of Angular community focused on the latest topics and issues surrounding this framework.
Speakers & topics:
VOJTECH MAŠEK (FlowUp) – Techniques for lazy loading your JS bundles in Angular
About Vojtech:
Vojto is a senior software engineer focusing on front-end with expertise in Angular and TypeScript. He's with Angular since its alpha phase. He's also a Head of engineering and co-founder of FlowUp, where he's leading multiple project teams.
MICHAEL HLADKY (GDE for Angular) – TBA
About Michael: coming soon.
MATĚJ CHALK (FlowUp) – How TDD helps you build modular Angular apps (Jest, Nx, Storybook)
About Matěj:
Matěj works as a full-stack engineer at FlowUp, where he helps architect and develop applications for web and mobile. He's passionate about technology and building quality software.
Start: 18:30
Place: online
Language: English
Lineup: coming soon!
Link to the stream: will be added on time.
Looking forward to seeing you all online!
Zmena programu vyhradená. Uvedené údaje sú len informačné.
Stránka Rýchle.sk nie je organizátorom podujatí.
Obrázky podujatí môžu podliehať autorským právam.